TREEGATOR® Original is a slow release watering bag that is perfect for newly planted or established trees from 1 to 8 inches in trunk diameter, with branches beginning at least 25 inches from the ground or higher.
TREEGATOR® ORIGINAL in practical use
TREEGATOR® ORIGINAL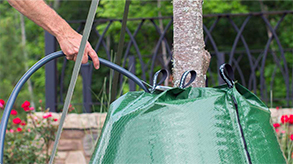 How To Install and Fill a TREEGATOR® Original Slow Release Watering Bag
TREEGATOR® Original Watering Schedule / Capacity Chart
Refer to the charts below for a recommended watering schedule, being sure to note the following qualifications:
Water capacity (gallons) of TREEGATOR® Original is dependent upon bag setup and tree trunk diameter (see below)
Recommendations are based on a commonly referenced guideline of 10 gallons of water applied per 1 inch of tree trunk diameter (caliper)*.
*Proper watering frequency can vary depending on several factors (tree and soil type, weather, etc.) These recommendations will NOT guarantee that your tree is being watered properly - Use it only as a guide. Consult a local gardening or tree care professional for more information on proper watering practices for your tree type and region.
TREEGATOR®
ORIGINAL
TRUNK DIAMETER
(caliper)
WATER
CAPACITY (per bag)
FILLS
PER WEEK

Single
Bag
1 to 2 inch
(2.54 to 5.08 cm)
15 Gallons
(56.78 liters)
1 Fill
Per Week
2 to 3 inch
(5.08 to 7.62 cm)
14.75 to 14.25 Gallons
(55.84 to 53.94 liters)
2 Fills
Per Week

Double Bag
Setup
4 to 5 inch
(10.16 to 12.70 cm)
23.5 Gallons
(88.95 liters)
1 Fill
Per Week
5 to 8 inch
(12.70 to 20.32 cm)
22.75 to 21.5 Gallons
(86.11 to 81.38 liters)
2 Fills
Per Week
Handling Precautions
Failure to follow the handling precautions shown below may void product warranty.
Use clean water only. If necessary, filter through cotton cloth on hose end.
Do not suspend or hang bag from black straps / handles.
Never lift bag by 1 handle / strap - Always use both handles when lifting.
Do not unzip or transport bag when full.
Do not tear / rip fill opening.
Do not zip together more than 2 TREEGATOR® Original bags.
Product contains small parts - Keep away from children.
Do not attempt to move bag when full.
Product is not a toy - Keep away from small children.
Do not use in any manner not consistent with installation instructions.
Note: TREEGATOR® brand products are solely designed to assist the user in properly watering a tree. Spectrum Products Inc., the manufacturer of TREEGATOR® brand watering bags recommends that product users follow the installation instructions and precautions provided for each TREEGATOR® brand product. Installation instructions may be found on any provided product tags, packaging materials and at www.Treegator.com. Any other use or misuse of TREEGATOR® brand products for purposes not designed by the manufacturer for its products, is not recommended. Spectrum Products Inc. and its affiliates will not be responsible for any proper, improper, or misuse of TREEGATOR® brand products.
The TREEGATOR® Advantage
TREEGATOR® Slow Release Watering Bags have been the preferred tree watering method of industry professionals worldwide since 1989.
Made in the USA from high quality materials
Install and fill in just minutes with no tools
Zip multiple bags together to use on large trees
Fill just once a week for most new plantings
Backed by 5 year limited manufacturer warranty