Reduce Watering Frequency to Once a Week
Compared to conventional methods, TREEGATOR® Slow Release Watering Bags can greatly reduce your watering frequency.
For most new plantings, a TREEGATOR® Bag only needs to be filled once every 5 to 7 days.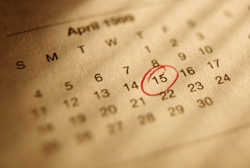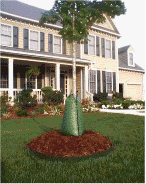 Deep Water Saturation
For most new plantings, one application of water from a single TREEGATOR® Original Slow Release Watering Bag will usually provide enough moisture to last a 1" to 2" caliper new tree planting for up to 7 days.*
Typically, TREEGATOR® Bags are used during the initial 1 to 2 growing seasons (i.e. Spring through Fall) after planting. However, the bags are durable and will last for many years. Meaning that they can be used as a supplemental watering device even after establishment - especially during periods of drought.
TREEGATOR® Watering Schedule / Capacity Chart
Refer to the charts below for a recommended watering schedule, being sure to note the following qualifications:
Water capacity (gallons) of TREEGATOR® Original is dependent upon bag setup and tree caliper (see below)
Recommendations are based on a commonly referenced guideline of 10 gallons of water applied per 1" of tree caliper*.
TREEGATOR®
ORIGINAL
TRUNK CALIPER
(dia.)
WATER
CAPACITY (per bag)
FILLS
PER WEEK

Single
Bag
1 to 2 inch
(2.54 to 5.08 cm)
15 Gallons
(56.78 liters)
1 Fill
Per Week
2 to 3 inch
(5.08 to 7.62 cm)
14.75 to 14.25 Gallons
(55.84 to 53.94 liters)
2 Fills
Per Week

Double Bag
Setup
4 to 5 inch
(10.16 to 12.70 cm)
23.5 Gallons
(88.95 liters)
1 Fill
Per Week
5 to 8 inch
(12.70 to 20.32 cm)
22.75 to 21.5 Gallons
(86.11 to 81.38 liters)
2 Fills
Per Week
TREEGATOR® JR. PRO
TRUNK CALIPER (diameter)
RECOMMENDED FILLS PER WEEK

15 Gallon capacity
(56.78 liters)
1 to 2 inch
(2.54 to 5.08 cm)
1 Fill Per Week
2 to 3 inch
(5.08 to 7.62 cm)
2 Fills Per Week
4 to 5 inch
(10.16 to 12.7 cm)
3 Fill Per Week
*Proper watering frequency can vary depending on several factors (tree and soil type, weather, etc.) These recommendations will NOT guarantee that your tree is being watered properly - Use it only as a guide. Consult a local gardening or tree care professional for more information on proper watering practices for your tree type and region.
Commonly Asked Questions:
How long does it take for a TREEGATOR® Bag to empty?
It typically takes approximately 5 to 9 hours* for a TREEGATOR® Bag to empty.
(*Note: Water release times may vary depending on certain factors such as: soil types, weather conditions, tree types and size, etc. - In some instances, it can take between 5 and 24 hours for single bag to completely empty.)
Why doesn't it take longer for a TREEGATOR® Bag to empty?
When watering, you want to water as deep as possible - not necesarily as long as possible. Watering slowly is the best way to get water deep below the soil - but, watering too slowly causes the majority of the water applied to evaporate before it reaches the root system. TREEGATOR® Bags are designed to provide deep water saturation with no run-off in the least amount of time necessary. You will water your trees and shrubs more efficiently and effectively than conventional methods and spend less time doing it.
Why doesn't a TREEGATOR® Bag need to be filled every day?
A TREEGATOR® Slow Relese Watering Bag delivers water deep below the soil surface with no run-off - every time. This means that there is now a high concentration of moisture within the entire soil profile that your new tree or shrub can feed from - potentially for several days. And, after a deep watering application, allowing the soil to begin to dry out will help encourages deep root growth - keeping the soil too moist for too long, or poor drainage at the planting site, can remove the oxygen available to the roots from within the soil and kill a tree or shrub.