Results Backed by Research
Shown below are excerpts from two seperate research studies using TREEGATOR® Slow Release Watering Bags.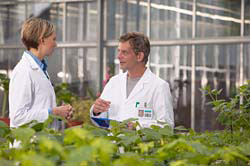 Horticultural Research Institute (2000)
A published study from the Horticultural Research Institute in Washington, D.C. showed that transplant shock following the transplanting of large trees can be minimized by applying a combination of selective pruning and irrigation with TREEGATOR® Slow Release Watering Bags.
Effect of Transplanting on Water Relations and Canopy Development in Acer (Maple trees) Authors - Amy J. Barton and Christopher S. Walsh, Dept. of Natural Resource Sciences & Ldscp. Architecture - Univ. of Maryland
"During the first 2 weeks of April 1997, 24 field-grown Acer trees (12 Acer truncanum / Trident maple and 12 Acer tataricum ginnala / Amur maple) were transplanted using a 45 inch tree spade. This was prior to leaf emergence.
Trees were moved approximately 492 feet to a blocked study site. Three trees of each Acer species were also left in the original nursery rows as non-transplanted controls.
All trees were irrigated for the three days immediately following their transplant, using TREEGATOR® Bags (Original model). After this initial watering, three trees of each species were randomly assigned to one of four treatments.
Treatments were transplanted control, top pruning, water (provided by TREEGATOR® drip irrigation) and water combined with top pruning. By using a combination of leaf area index and transpiration rates, Acer (maple) trees that were selectively pruned and irrigated with TREEGATOR® (Slow Release Watering Bags) exhibited less transplant shock than those that were only pruned or not pruned but were irrigated."
Excerpt above adapted from:
Journal of Environmental Horticulture 18;202-206 December 2000
---
Nursery and Landscape Projects (2001)
A published study by Bert Cregg with Michigan State University Department of Horticulture compared soil moisture, survival and growth of street trees with and without TREEGATOR®, as well as compared the incidence of vandalism on TREEGATOR® Bags in diverse neighborhoods in Lansing and Detroit, MI.
Influence of post-planting care on street tree performances: Biological and social factors Author - Bert Cregg, Dept. of Hort. and Dept. of Forestry
"In cooperation with the city of Lansing and the Greening of Detroit, we installed TREEGATOR® (Bags) on 27 trees in each city. City of Lansing or Greening personnel filled the Treegator® Bags periodically through the summer. They also hand-watered 27 trees in each city. In Lansing, 27 trees were not irrigated. In each city, the trees were divided among three neighborhoods and irrigation treatments (TREEGATOR®, hand-watered or control) were assigned at random to trees within a neighborhood.
During the summer of 2001, we periodically measured soil moisture at zero to six inches and zero to 12 inches with a TDR soil moisture system. On each measurement run, we noted the presence or absence of the TREEGATOR® (Bags) and any evidence of vandalism to the trees or TREEGATOR® (Bags).
Irrigation either by hand or using the TREEGATOR® (Bags) increased soil moisture compared to the un-watered control trees in Lansing. Between water treatments, there was little difference in soil moisture near the surface, but irrigation with the TREEGATOR® (Bags) increase soil moisture deeper in the (soil) profile.
Incidence of vandalism to the TREEGATOR® Bags was low. In each city, one of the 27 TREEGATOR® Bags installed was removed (2 of 54 total). In Detroit, the one TREEGATOR® that was tampered with was moved from a tree in front of a vacant lot to a tree in front of a residence. We did not detect any other evidence of vandalism or tampering.
From the data to date, we conclude that the likelihood of vandalism to TREEGATOR® (Bags) is relatively low (less than 4 percent overall) across a range of neighborhoods in Lansing and Detroit. Watering with the TREEGATOR® (Bags) can improve soil moisture deeper in the (soil) profile than watering by hand."